November 5
We are thrilled to announce a new sponsor at the TransAlta Tri Leisure Centre. Locally owned Fountain Tire has stepped up to become the newest sponsor of the TLC in the lower level comfort zone. The comfort zone is the space between the arena and the field filled with soft seating that allows parents and fans to relax, visit or wait for their budding athletes. It also shows Fountain Tire understands the demands on families – and the relief they can find by simply having somewhere to relax.
The refreshed lounge area is thanks to a multi-year partnership between Fountain Tire Spruce Grove and the TLC. The company's investment in our facility supports our delivery of health and wellness programs to residents of the Tri-Municipal Region.
Fountain Tire is a long-time member of our community; they have been a fixture in Spruce Grove for nearly 30 years. The local store owner, Jamie Williams, has been at the helm for the past five.
"When the opportunity to support our community hub came about, I jumped at the chance," says Williams, owner of Fountain Tire Spruce Grove. "The TLC's mission to bring the community together aligns perfectly with our focus on partnership."
"We are so excited to have another local business sponsor this area here at the TLC", says Candace Westeroth, Marketing & Communications Specialist at the TLC. "As a local resident and active community member, Jamie and Fountain Tire Spruce Grove are a great fit for us."
"At Fountain Tire, we like to say 'we're on this road together,'" continues Williams. "That means we partner with our customers to take care of their vehicles and we partner with organizations like the TLC that help improve our communities."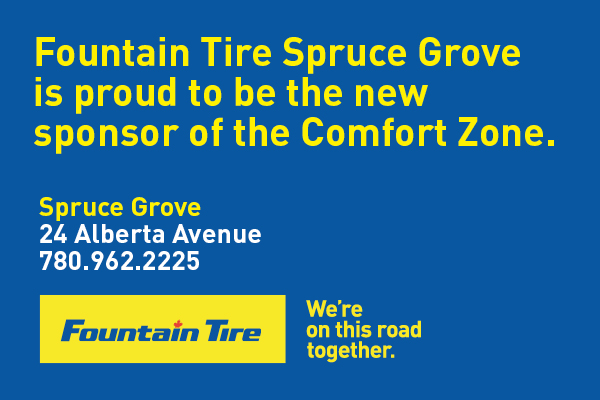 "We are always on the lookout for local businesses who would like to sponsor or partner in some way. We aim for our sponsorships to be mutually advantageous for both the TLC and the local business. The number of people through our doors on a daily basis provides amazing value for the business, sponsorship dollars help us keep our fees down – it is a win-win-win for us, the business and the community", says Lenny Richer, General Manager of the TransAlta Tri Leisure Centre.
Mark your calendars for the spring when Fountain Tire Spruce Grove hosts its free family event to celebrate the sponsorship, details to come.
SAVE THE DATE!
FOUNTAIN TIRE COMMUNITY EVENT
COMING SPRING 2020
Fountain Tire is one of Canada's premier tire and automotive service networks with 160 locations spanning Central and Western Canada. The Spruce Grove location offers a wide range of tires for cars, SUVs, CUVs, minivans, trucks and trailers as well as complete automotive services for any make and model of vehicle. The location also provides tires and mechanical services for commercial trucking and fleet, industrial, off-the-road and farming customers.
Welcome, Fountain Tire, to the TLC!
Older Post
TLC Evacuation | October 17, 2019
Newer Post
COVID-19 UPDATE