June 6
The summer of 2019 is "fixing" to be a busy one here, not only with our regular swimming lessons, programs, camps and fitness classes, but also for RENOVATIONS and UPGRADES to the TLC.
Lots of big things are planned, including a complete front desk renovation to better serve our customers. There are several reasons why we are doing this renovation:
Increased visibility to all ground floor areas for our staff
Increase our visibility for new patrons to check in
More work stations to reduce customer wait times
Dedicated scanner for members with RFID wristbands
Counters at different heights to better serve a range of patrons' needs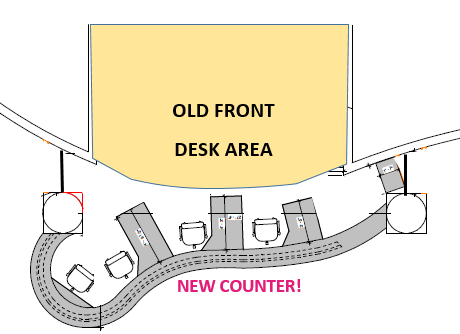 Work is expected to take place from June 17 to August 9, but we will still be fully operational during this time. Find us across from the pool viewing area right in front of the Parkland Room.
Our second big job this summer is to replace the safety netting surrounding our fields. As our patches are needing patches, it is definitely time to get some new nets up. We are going to be doing this project one field at a time, so there will be little impact to patrons and no impact to our regular TLC programs. June 18-21 the south field will be closed, and July 2-5 the north field will get its turn.
Lastly, our annual pool spruce up (and closure) will be from September 3-22. This year we are replacing half of our pool deck tile, as the old tiles were getting worn and slippery in places. Our contractor will be working around the clock to get this big job completed in the time frame we have provided. All of the other deep cleaning and maintenance jobs will also be completed during this time.
You can get your behind-the-scenes reno updates on our Instagram account @trileisurecentre. Follow us today!
By Candace Westeroth
Older Post
ADVENTURES WITH WASKASOO
Newer Post
Welcome to Summer!