October 3
Scent Sensitivity + the TLC + YOU!
Did you know that your choice of perfume or even hairspray can have a really negative effect on others? We have probably all heard about people who get headaches from certain smells, but did you know that it can be even worse than that? Some folks are seriously affected by our liberal use of scent because of the chemicals in those perfumes, body sprays and hairsprays.
Not too long ago I got an email from a great lady, Charlene. She suffers with chemical sensitivity and it affects every aspect of her social life, even when she tries to come and work out here at the TLC.
"My condition is called Chemical Scent Sensitivity", says Charlene. "It affects 35% of people, but there are usually different levels of severity. I personally get immediate nausea, dizzy, numb mouth and tongue and headache."
If you think about it, many things nowadays have scents:
Soaps
Lotions
Fabric softeners
Laundry detergents
Skincare products
Cosmetics
Air freshener
Room spray
Scented candles
Cleaning and deodorizing products (list taken from: www.fragrencex.com)
For someone like Charlene, that is a very challenging way to live life!
"It's mainly the people that just freshly douse themselves in it before coming to The Tri that is a problem for me. I have had to stop in my tracks and literally flee my workout due to these people that believe they smell good, but are actually making others around them ill. It's a part of my life and I have to live with it, I know", Charlene writes.
"We have put up signs to be aware of those of us who have a sensitivity to scents", says Jennifer Telfer, TLC Wellness Supervisor. Unfortunately, we cannot control everyone who walks through the door, but we are hoping that those patrons who read the signs or are spoken to by one of our staff members will remember in the future to be a bit more careful with scents when coming to or while at the TLC."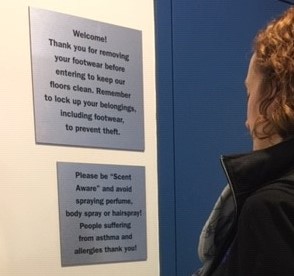 Charlene writes, "I know I can't change the world to become scent-free but every little bit helps. Other than wearing an N5 mask everywhere I go I am determined to keep on "getting out there" and deal with it and continue to work out. Most days I am lucky. Others, not so much. I use the pool, the track and the gym. The gym seems to be the best and the track is the worst."
"We all share the same air – please be mindful of those of us who cannot tolerate heavy scent and keep that at home instead of at the TLC." ~ Charlene
"This email is far from a complaint. I think the TLC is the best place in the world and I love coming as much as I can. I was just hoping to spread awareness to the people in the region to not come to a workout smelling strongly of perfumes and colognes."
Consider no perfume, body spray or scented hairspray the next time you come to the TLC. Charlene says thank you!
Want to know more? Check out this blog post (link: https://www.fragrancex.com/blog/fragrance-sensitivity/)
Older Post
Behind-the-Scenes: Summer Camps
Newer Post
TLC Evacuation | October 17, 2019